Even shoemakers have to keep up with the times
Renske is surrounded by numerous heavy machines, with shoes in all shapes and sizes scattered across the floor, on racks, or on the counter. She apologizes for the mess, but for a shoemaker it's normal. Some shoemakers specialize, for example in keymaking, but Renske had no intention of conforming to the traditional image of a shoemaker: an elderly, grumpy man, dirty hands, and an old-fashioned store. Regular customers in Druten did a double-take when their shoemaker retired and they saw a 25-year-old lady standing behind the counter. "In the beginning they'd ask, 'where's your father?'", Renske says.
"Why are shoemakers always stereotyped as old men?", she recalls thinking. "Why does a craft have to feel outdated? That image had to change - that was my strategy. Here I am: young, modern, and offering the same quality of service you've always been used to."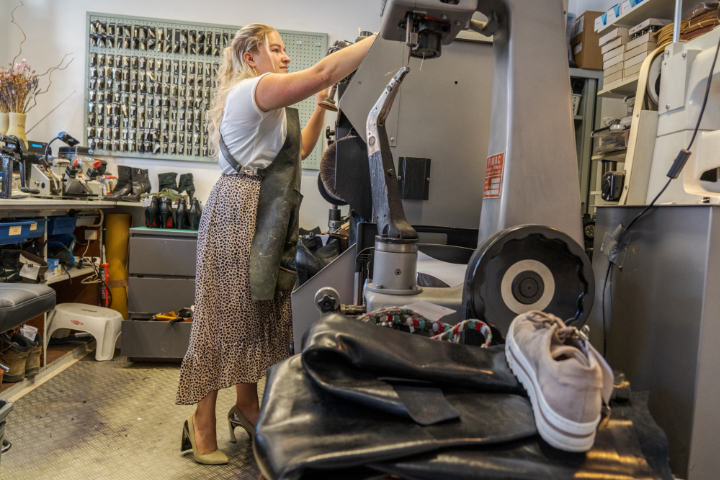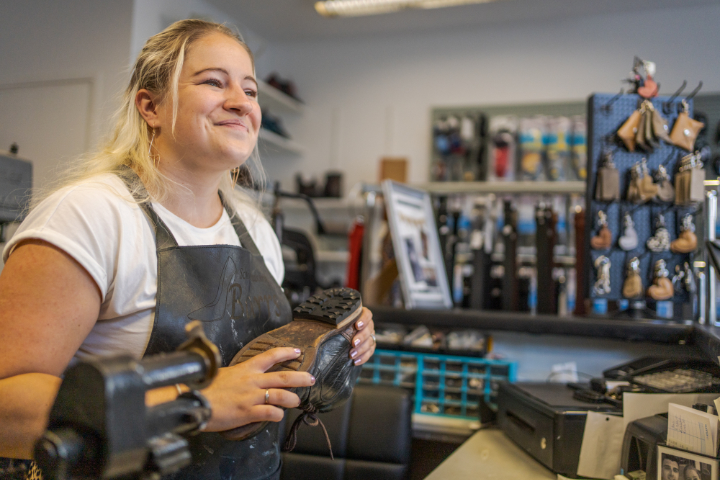 While the smell of burnt rubber fills the store as she rubs the heels of a shoe on the big, loud machine, Renske recounts the astonished reactions when she took over the business. After buying the business from the retiring shoemaker, she gave it a new name, updated the machinery, and was determined to give the craft a modern look.
A passion for bags and shoes
"From a young age, I knew I wanted to do something creative, with my hands." Renske knew she wanted to work with bags and shoes because "you can design endlessly". After studying shoemaking and leather goods, she worked in the orthepedic footwear sector for 4.5 years. "Until one day, I walked past the shoemaker in my village and noticed it was for sale. Two weeks later I came back and bought it."
I chose Webador because it allowed me to quickly and easily set everything up myself.
After the initial surprise, and some mild panic from older customers wondering who this lady was and where their trusted shoemaker had gone, reactions were positive. "People liked the fact their shoemaker lived nearby." Renske isn't a fan of 'anonymous' shopping in large cities. "I hope to get people back to the village high street - young people too - by keeping with the times and maintaining a fresh, young appearance. That also means being visible online. I think the website is great for showing who I am, my story. I don't know much about website building myself and I prefer not to get involved with things like coding. That's why I chose, Webador, so I could do it quickly and easily myself."
Traditional and sustainable, but modern
While the convenience of online shopping and the prices advertised by large chains allow us to buy new shoes without much thought, this buying behavior is starting to bother more and more people. "We want to be sustainable. That means we have to end the throwaway economy. Instead of buying cheap shoes and throwing them away when they break, why not invest in a good shoe that lasts a long time and is worth repairing?", says Renske.
Craft professions are often more sustainable than the efficient mass production in recent years.